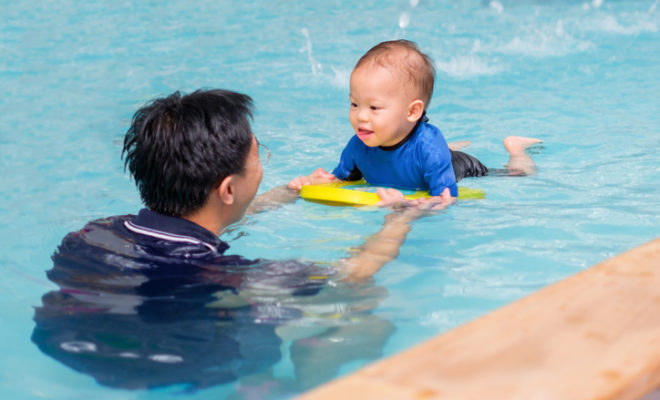 5 Pilihan Kelas Berenang untuk Si Kecil
By
|
Menurut Thomas Weber, Director of Sports Supertots Indonesia, sejak usia 6 bulan Si Kecil sudah bisa mulai diperkenalkan dengan aktivitas berenang. Jangan lupa melakukannya dengan cara yang menyenangkan ya, Mams, misalnya mulai dengan menyediakan bak air penuh dengan mainan untuk membuatnya menikmati waktu bermain di dalam air. Berikut rekomendasi kelas berenang untuk Si Kecil.
Aquababies Indonesia
Membuka kursus berenang dengan 2 stage kelas, yaitu newborn (0 – 18 bulan) dan Toddler (1,5 – 3 tahun), Aquababies menyelenggarakan 10 kali pertemuan dengan durasi 30 menit setiap sesi dalam setiap stage kursus. Dan, di setiap kelas juga dibagi menjadi 3 tingkatan mulai dari yang termudah: Beginner, intermediate, advanced. Aquababies membuka cabangnya di Jakarta, Surabaya, dan Bali.
Swimtime Aquatics
Membagi kelasnya dalam 2 bagian besar yaitu Parent & Child Class (6 bulan – 4 tahun) dan Learn to Swim Class (diatas 4 tahun). Dalam setiap stagenya, mamas akan mengikuti kelas selama 7 kali pertemuan dengan durasi masing – masing 30 menit. Hanya untuk wilayah Jakarta meliputi Kelapa Gading, BSD, Kemang, dan Sentul.
Splish Splash
Tidak hanya berfokus pada kelas berenang, Splish Splash juga membuka kelas balet dan kursus sepak bola bagi balita. Untuk kelas berenang sendiri dibuka untuk usia anak 6 bulan – 4 tahun. Menariknya, mereka juga membuka pop up class di berbagai daerah di sekitar Jabodetabek seperti Jakarta Selatan, Depok, hingga Cibubur.
Aquatic Baby
Membuka kelas untuk rentang usia bayi hingga balita, mamas yang berdomisili di sekitar Bintaro, BSD, Pejaten Jakarta Selatan dan PIK bisa mengikuti kelas yang diadakan secara rutin.
Adda Swim
Membuka kelas dengan 4 stage : Baby, Toddler, Preschool, dan Kids class, mamas yang berdomisili di area Jakarta (Royal Sport Center, Jakarta Timur) dan Bekasi (Kolam Sekolah Montessor Rumah Krucil) bisa mendaftar melalui Instagram @belajarenang. Selamat mencoba! (Nathalie Indry/KR/Photo: Istockphoto, Instagram)