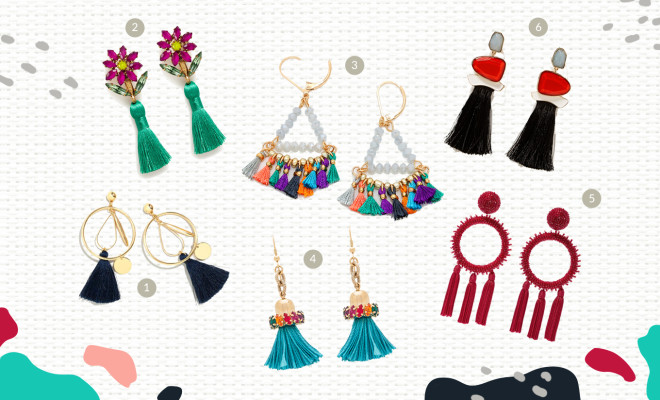 Tampil Beda dengan Tassel Earrings
By
|
Mams, sudahkah Anda melengkapi koleksi anting Anda dengan tassel earrings yang sedang tren ini? Padukan tassel earrings dengan dress untuk tampil formal ala Kate Middleton, atau gaya yang lebih kasual ala Jamie Chung, yaitu denim dan jaket kulit.
"Tassels are the new bows," ujar Kate Spade New York chief creative officer, Deborah Lloyd, yang mendesain sepasang tassel earrings yang dikenakan kedua public figure ini. Lloyd juga menyarankan agar Anda memilih warna anting berdasarkan warna mata penggunanya. "Reds tend to make blue and green eyes pop, while green and marigold look great with brown eyes". Lloyd memasarkan sepasang antingnya seharga U$98. Selain karyanya, simak beberapa inspirasi tassel eaarings rancangan desainer lainnya yuk, Mams!
Paduan warna emas dan navy pada anting ini akan memikat siapapun yang melihatnya. Abstract Tassel Hoop Earrings, JCrew.
Untuk tampil klasik, anting dengan taburan kristal swarovski pada aksen bunga ini bisa jadi pilihan. Braidynn Floral Tassel Drop Earrings, Elizabeth cole – Lane Crawford.
Anting warna-warni bisa jadi statement look Padankan dengan dress polos ya, Mams! Gypsy Gypset Earrings, Nissa Jewelry.
Tassel earring ini bisa jadi aksesori yang tepat saat Anda ingin tampil glamour. Tassel Earrings, Anton Heunis – Revolveclothing.
"Tassel earrings are the perfect finishing touch," ujar Oscar de la Renta. Kenakan dress putih dan sepasang anting merah dengan 3 tassel ini untuk tampil kontras. Tasseled Red Beaded Earrings, Oscar de la renta – Net a porter.
Anting dengan colorful gem stone dan tassel hitam ini bisa Anda padukan dengan banyak warna. Seperti merah, putih, hitam atau warna netral lainnya. Tasseled Gem Stone Earrings, (Tammy Febriani/YA/Photo: Various)